GMG Creative are very pleased to be announced as Prestige Awards' Graphic Designer of the Year for Somerset!
"The Corporate Livewire Prestige Awards recognise small and medium-sized businesses that have proven to be the best in their market over the past 12 months, so it is an honour to be shortlisted, and go on to win!"

- Sarah Burnett, Designer and Consultant/GMG Creative.
After providing evidence of work and client feedback to support our nomination we're overwhelmed by the judges' comments, commending us for the high standard of skill and creativity displayed in each project we complete.
They also praised our understanding of, and technical ability to work with any budget to achieve the client's desired business goals at a high standard along with a personal touch, consistency of reviews and overall attentiveness, going over and above for clients. Being known for this is important to us.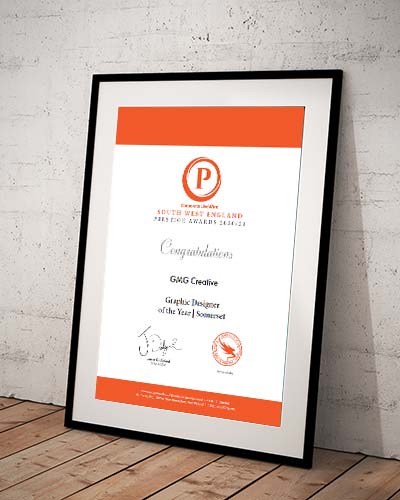 "Throughout the process of their projects, the team displays an ever-effective, efficient, and supportive service, along with outstanding levels of creativity. The result is a tailored design and marketing strategy that attracts the intended audience and encourages business growth."

- Corporate Livewire Judging Panel.
More details and judges comments will also be published in the magazine, The South West England Prestige Guide, which will be available to over 500,000 subscribers on a national basis. It will also reach over 100,000 readers located in South West England in both print and digital formats during 2021.
If you would like to work with us, please get in touch... we'd love to hear from you and have a chat about how we can work together.